Introducing Expo 2024 Keynote Speaker Dr. Prith Banerjee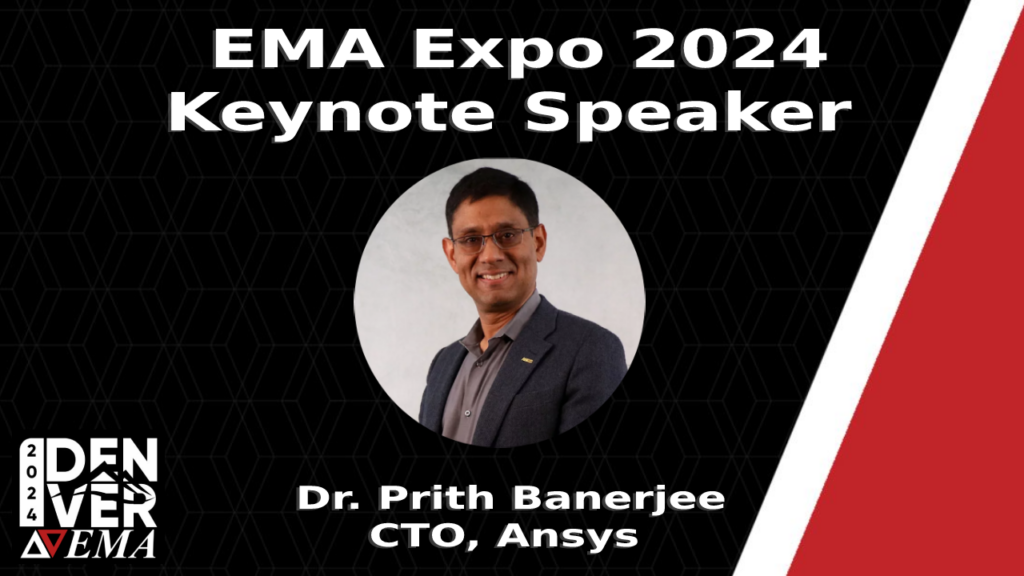 Innovation: a new idea, method, or device; the introduction of something new. Innovation is also what Ansys Chief Technology Officer Dr. Prith Banerjee has based his career on.
"This is my passion," he says. "I want everybody to embrace the passion of innovation like I do."
That is the excitement he will be bringing to EMA Expo 2024 as keynote speaker.
Dr. Banerjee's dedication to innovation has developed over his decades-long career, which he breaks up into three phases: his time in academia, being the founder of two startups, and serving as CTO at several companies, including Ansys. Based on his experience, Dr. Banerjee believes companies do short-term innovation well, but struggle with the long-term. It is this struggle that he focuses on in his current position.
"At Ansys, my role is to look at the disruptive, what's out there in the future," he said.
One of the projects Dr. Banerjee is driving for the future is using simulation in healthcare, which he says will have the greatest impact on society. This includes creating a model of the human heart. The electric pulses go into the heart and in response, muscles contract, and blood flows from the atrium to the ventricle, which Dr. Banerjee says boils down to a multi physics simulation involving EMI/EMC, structures, and fluids.
"We are building accurate beating heart models, for the left heart, the right heart, the full heart, oh and by the way, you want to put a pacemaker inside the heart to take control of arrhythmia, we can do all of that," he said.
Looking to the future is what landed Dr. Banerjee on The Software Report's list of Top 25 Software CTOs of 2023.
"I was absolutely humbled and honored with this recognition," he said. "I also know that there are hundreds of other software CTOs who are doing absolutely amazing things."
The Software Report says that Dr. Banerjee's simplified long-term technology strategy is easily understood and embraced by customers, partners, and employees. This strategy is based on five pillars: numerical methods, high-performance computing, artificial intelligence/ machine learning (AI/ML), the cloud, and digital engineering.
The five pillars all tie into Dr. Banerjee's desire to work on new, larger projects. Within the numerical model pillar, he says engineers are working on higher order methods which go beyond second-order partial differential equations and taking advantage of how to speed it up using AI/ML.
"It's not AI/ML using data analytics, it's the interplay between AI and ML and physics, the data physics continuum," he said.
It is AI/ML specifically, that Dr. Banerjee will be focusing on in his keynote address, "Use of AI/ML in Simulation." AI/ML technology use is widespread, including Apple's Siri, but Dr. Banerjee says the technology has not yet been used in simulation. Attendees can expect his keynote address to look at the use of top-down methods, bottom bound methods, reduced order models, and the latest craze around ChatGPT.
"That's what we're working on," he said. "What is the impact of sort of large language models and how it's going to transform the world of simulation."
With simulation technology progressing and becoming more complicated, Dr. Banerjee says problems can really be reduced to one thing.
"Fundamentally the problems are, well, it's Maxwell's Equations, but the level and scale at which it is being solved today is quite different from how I took my electromagnetics courses 35 years ago," he said.
Dr. Banerjee says this difference can be clearly seen with cell phones. In the early 1990s it was 2G technology, and in the three decades since then, most cell phone users have upgraded to 5G. It is predicted that by the early 2030s, 6G service will be widely available.
"Can you imagine the kinds of technologies that you need to get all these 6G base station antennas talking to all these things at scale to connect up to 10 billion people on the planet?" Dr. Banerjee said.
The scale is even bigger than connecting millions of people to 6G service. Dr. Banerjee says engineers and scientists are having to solve problems about how cell phone signals interact with an increasing number of electrical parts in vehicles.
"We can model the entire city of downtown Seattle and all the bases and antennas, you [can] put in different road intersections and the cars, and you can model the EMI," he said. "To solve those problems, it requires solving electromagnetics problems at a scale never been seen before."
It is not just communication problems on Earth that are being worked on, but also those in outer space. The James Webb telescope is the largest and most powerful telescope ever built, orbiting the sun about one million miles from the Earth. The telescope is sending images from all corners of space, but the signals back to Earth are weak, so how are scientists able to get the images back? Dr. Banerjee says it's electromagnetics.
"Ultimately all communication in the world, digital communication, analog communication, is being enabled by electromagnetics, but to solve it requires multiscale, multidomain, multi physics simulations and that is what is exciting today," he said.
When it comes to solving these large-scale problems, it is the engineers of the future that will be answering these questions. Supporting future engineers and technology is why Dr. Banerjee decided to become the executive sponsor of the Ansys Academic Program.
In 2023, the Ansys Academic Program is contributing $250,000 to qualified colleges and universities to revamp undergraduate engineering programs or to develop new programs using Ansys simulation tools. The academic program has also made Ansys simulation tools available for almost free for universities.
"What we want to build out through this academic donation program is to fund graduate students and professors to build out new curriculum for the new things like the 6G and the satellite kind of stuff, or the EMI/EMC for electric cars," he said. "The hope is that the students will use these things, learn about Ansys, and when they go out into the world, they will use Ansys in their day-to-day job."
Dr. Banerjee believes learning and using simulation skills early in a students' career could lead to a big payoff. He uses the example of a student having a Wi-Fi connectivity problem and using simulation skills to create an app to find a solution.
"That is an app that could be enabled by Python scripts for HFSS," he said. "Ansys would not be interested in building such an app but as a graduate student, somebody who's coming to this conference, would be interested… That's the kind of ecosystem that we are trying to expand."
Innovation comes at every scale, from students using their budding skills, to the experts solving large-scale multi physics problems. The message that Dr. Banerjee wants attendees to take away from his speech, innovation is never ending, and the field is ever-changing.
"The field of electromagnetics is just beginning," he said. "I ask each of you to just imagine what can be built."
Dr. Prith Banerjee is the keynote speaker for EMA Expo 2024. EMA Expo 2024 is an in-person event featuring experts introducing the latest electromagnetic engineering simulation strategies and technologies, exhibitors showcasing new products and services, and four technical training courses providing attendees with the latest up-to-date industry knowledge and standards. For more details to get registered, just head to ema3d.com/emaexpo2024.