Welcome to EMA Expo 2024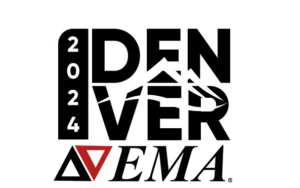 Welcome to EMA Expo 2024! The event will be held in-person in the Denver-metro area Jan. 29- Feb. 2, 2024. It is the perfect opportunity to network with experts, acquire skills in the best electromagnetic simulation practices, share your work, and gain an understanding about the future of technology.
"Getting together in-person allows us to get to know our colleagues in the community better, to understand where simulation technologies are going, and to be introduced to the state-of-the-art platforms to apply the technologies," EMA President Tim McDonald said.
Who is EMA?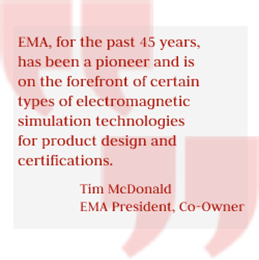 Electro Magnetic Applications, Inc., or EMA, was founded in 1977, focusing on the analysis, hardening, and testing of systems. EMA is a leading developer of technologies for engineering simulation. EMA's engineering specialty is in applied electromagnetics. In this domain, EMA provides software and services to promote the design, certification, and performance of our customers' products.
In its early years, EMA supported customers in aerospace and defense with an emphasis on electromagnetic environmental effects, space environmental effects, electromagnetic compatibility, and radio frequency interference simulation, design, and testing. EMA became an Ansys Technology Partner in 2020 and commercialized two simulation products: Ansys Charge Plus and Ansys EMC Plus. EMA has since expanded into electronics and automotive applications and electromagnetics.
EMA is excited to interact with our colleagues more deeply with the introduction of EMA Expo.
What is EMA Expo 2024?
EMA Expo 2024 is made up of two tracks: a technical conference and four technical training courses.
"We decided to do the first ever expo conference in order to bring together users of our software and our partners from around the world to talk about best practices, the current state of the technologies, and where things may be going in the future," McDonald said.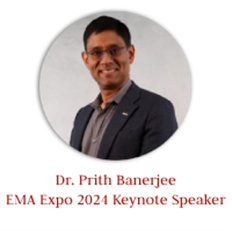 Along with presentations and training, Ansys CTO Dr. Prith Banerjee will be giving a keynote address to all attendees. The title of his address is "Use of AI/ML in Simulation."
"The keynote speaker will cover how machine learning tools are being combined with physics simulation," McDonald said. "This will be a glimpse into the future of product design."
Several networking events will take place during the event, including a welcome cocktail hour at the expo venue and a formal dinner at the Denver Museum of Nature and Science. Registration for the event opens May 1, 2023.
Training Courses
Training courses on the following topics will be held: HIRF and lightning, space environmental effects, RF interference and EMC.
"We're going to have four separate very important courses that will cover the technical topics with world renowned experts brought in from various places," McDonald said. "I'm excited to meet the next generation of engineers in this field in the training courses."
Modern Approaches to HIRF and Lightning Certification
This HIRF and lightning certification course is a high-level class for aerospace, designed to help understand the process of certification. It will provide participants with the tools needed to produce aircraft that meet required certifications.
The class has been designed for everyone dealing with HIRF and lightning certification, especially those who are new to the field.
"The industry is changing rapidly," EMA Senior Engineer Brock Milford said. "Aerospace is growing, and the workforce is getting younger as many veterans of the industry have retired."
Course leaders say it will also be a forum to compare notes on how others view certification. Milford says the goal is to host a kind of training that only EMA can provide.
"I want to help people go beyond the guidance," he said. "We can all read the ARP's and DO-160. What is really valuable is application of the knowledge and processes to problems that don't fit the mold."
A Practical Approach to Space Environment Effects  
The "A Practical Approach to Space Environment Effects" course will provide a comprehensive understanding of the space environment, its potential effects on spacecraft materials and designs, and strategies to mitigate associated risks. Attendees will gain insights into the challenges of designing and operating spacecraft in the harsh space environment, learn about the latest tools and techniques for assessing and managing risks, and engage in hands-on activities to reinforce their understanding of key concepts. This knowledge will ensure the reliability and longevity of designs.
The course will cover a wide range of topics including:
Space environment factors
Spacecraft charging
Radiation effects
Case studies of mission failures
Practical guidance on simulation, testing and analysis
"The prospect of gaining in-depth knowledge from industry experts who have collaborated with prestigious space organizations is a key aspect of this course," EMA Senior Scientist Gregory Wilson said. "Through lectures, case studies, and group exercises, attendees will acquire the knowledge and skills necessary to develop reliable, cost-effective designs that can withstand the unique challenges of space,"
The course is geared toward all aerospace and satellite professionals, but particularly those responsible for the design, testing, and operation of spacecraft systems.
Wilson says EMA is uniquely positioned to offer this training, with expert instructors having worked on numerous projects with renowned space organizations.
"EMA's commitment to research and development in the field, as well as their collaboration with leading aerospace organizations, ensures that the training material is up-to-date and relevant to current industry needs," he said.
Identifying and Mitigating Radio Frequency Interference
This RF interference course will focus on how simulation and measurement can be used to identify and mitigate RFI problems and will feature real world problems that have been solved using this approach. Measurement demonstrations will show the importance of wideband measurements of RF systems and components.
"The approach to RFI/ co-site problems has evolved dramatically over the past 30 years," EMA Principal RF Engineer II and Co-Owner Matt Miller said. "There has been a major evolution in the way we approach these problems."
The course will include four main sessions:
What is the RFI/co-site problem and why should you care?
Data needed for simulation and analysis
Measured data
Using simulation to identify and mitigate interference
Systems engineers, RF engineers, antenna engineers, and avionics engineers are all encouraged to attend. The approach that will be covered has been successfully applied to platforms such as autonomous vehicles, satellites, military aircraft, and military ground vehicles.
Miller says when he first started working on RF problems, multiple assumptions had to be made about RF system performance, but that is no longer the case.
"Fast forward to today and the simulation tools are a key part of the design process and automated measurement systems provide the analysts with the true performance of the RF systems and not some extremely conservative or inaccurate representation of the RF systems," Miller said.
Achieving Electromagnetic Compatibility (EMC) Success Through Smart Design Approaches  
The EMC course is designed to help engineers improve the performance of products. A wide variety of speakers will cover fundamental properties and practical steps that can be taken to improve the chances of sailing through EMC compliance. Fields include aerospace, full spacecraft, vehicles, consumer electronics, and more. The course has been designed for anyone involved in EMC compliance testing.
"You'll have a chance to ask the questions that have always plagued you and get the best possible responses from practitioners who have been down in the trenches," EMA Principal Scientist I Karen Burnham said.
She says that oftentimes EMC compliance problems pop up at the very end of the product design cycle, so it is important to have a smooth path to save time and money.
"It [the course] will give you the right questions to ask, the most problematic areas to focus your attention on, the systems-level perspective, and information to help cut down on test times," she said.
Burnham says she's most excited about the breadth of topics that will be covered. She says the course will combine easy-to-understand fundamentals with practical, implementable tactics to improve the product design lifestyle.
"There are common principles that, once understood, can improve performance across a multitude of products," she said.
To get signed up for a course, check out the EMA Expo 2024 registration page.
Call for Papers
The technical track of EMA Expo 2024 aims to bring together experts looking for a venue to present a peer reviewed scholarly paper and those looking to learn more about the latest practices and technology.
The Call for Papers topics includes but is not limited to:
HIRF and Lightning: Papers focusing on the technology for designing, testing, and simulating aircraft and spacecraft for lightning, HIRF, and other related EM environmental effects.
Space Environmental Effects: Papers focusing on designing for radiation environments as well as testing and simulating those environments.
RF Interference: Research on novel state-of-the-art ways to model RF systems and their compatibility on complex platforms.
EMI/EMC: Research on what is being done to advance EMI/ EMC in product design and how a combination of simulation and testing is leading to more compatible products.
Papers focusing on different topics in these areas will still be considered. Areas of focus include but are not limited to aerospace, automotive, defense, electronics, and heavy industry.
Abstracts are due May 1, 2023. For additional details about what is required and how to submit your work, please head to our EMA Expo 2024 Call for Papers page.
Exhibitors and Sponsors
EMA encourages industry partners to take part as exhibitors and sponsors. Exhibitors and sponsors will have the opportunity throughout EMA Expo 2024 to network with attendees and showcase their capabilities. Sponsorship packages are available, along with a la carte options to fit any budget. Visit our sponsor page to learn more and get signed up.
Visiting Colorado
EMA Expo 2024 is being held at the Denver Marriott West in Golden, Colorado. The venue is 30 miles from Denver International Airport. There are several ways to get from the airport to the hotel including car rentals, ride shares, and public transportation.
Golden is a former gold rush town at the foothills of the Rocky Mountains. The town has world-class outdoor recreation, cultural attractions, and local charm. Golden is the home of Coors Brewery, the largest single-site brewery in the world. The world-famous Red Rocks Amphitheater is less than 10 minutes away and includes hiking trails.
The Colorado School of Mines calls Golden home. The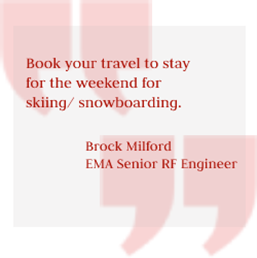 public research university focuses on science and engineering, with several EMA employees holding degrees from the institution. On campus you will find the Mines Museum of Earth Science. Attracting 30,000 visitors a year, the museum is the home to rocks, minerals, fossils, and other fascinating Earth Science-related objects, including moon rocks collected during the Apollo 17 mission. The museum is open seven days a week and admission is free.
If you are looking for a different kind adventure in town, we suggest checking out the Visit Golden webpage for fun activities.
In case you're wondering about the weather, the average Denver-metro area temperature during EMA Expo 2024 is 44 degrees Fahrenheit.
Nearby are the Rocky Mountains, with endless options for fun.
"When you think of Denver, I always think of the winter and skiing and it's beautiful," McDonald said. "I would encourage people to take an extra weekend, get up to the mountains."
Heading west on I-70, world-class skiing and snowboarding is just an hour away at Winter Park, Arapahoe Basin, and Loveland Ski Area. Less than 90 minutes away is Breckenridge, Copper Mountain, and Vail.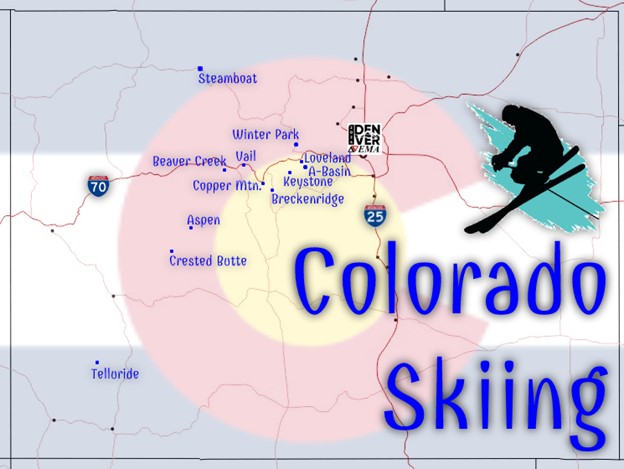 If skiing or snowboarding isn't your thing, there are plenty of other mountain winter activities to keep you busy, like snowshoeing, sledding, tubing, and sleigh rides.
As you head back to the airport, make sure to carve out some time to see what Denver has to offer, denver.org has a full list of events. Winter is also prime indoor sports season, so make sure to check the schedule to see if the Denver Nuggets or 2022 Stanley Cup Champion Colorado Avalanche will be playing at Ball Arena.
"It's really beautiful here in Denver and there's good shopping, there's good restaurants," McDonald said. "So come see the Mile High City while you're visiting Expo."
Now is the time to get registered for EMA Expo 2024, just head to our expo page at  ema3d.com/emaexpo2024 to get signed up. We'll see you in January!